For those who haven't heard of the widely popular new shopping app "Temu", or for those who have, but were worried about buying cheaply made products from China, this article is for you. This article is not about the ethics of Temu, if you're interested in that, you can read here. I've been shopping (and earning gifts free) on Temu for the past 5 months, and I've found that there are some great gems there for misophonia. Some of the products I have more experience with than others, but I have also found their reviews to be surprisingly legitimate.
I expected the quality of Temu to be similar to that of Wish and AliExpress, which in many ways it was, but what surprised me more was that when the veil was lifted, many of the products being sold directly on Temu were the same products I was paying 2-3x as much for on Amazon! When I really went down the rabbit-hole, I realized that Amazon charges its retailers a hefty sum to be on the site, and thus, Temu was appealing to manufacturers to cut out the middle-man for a global market.
One benefit I've found for Temu is that some companies like Logitech (the Asian variant), and Lenovo, are selling their legitimate products on Temu. This is great for people with misophonia who'd like a deal on good products. There are also plenty of opportunities on Temu to play games and win these items for free- but these can take up to 2 months to win.
Some of the best products I've found on Temu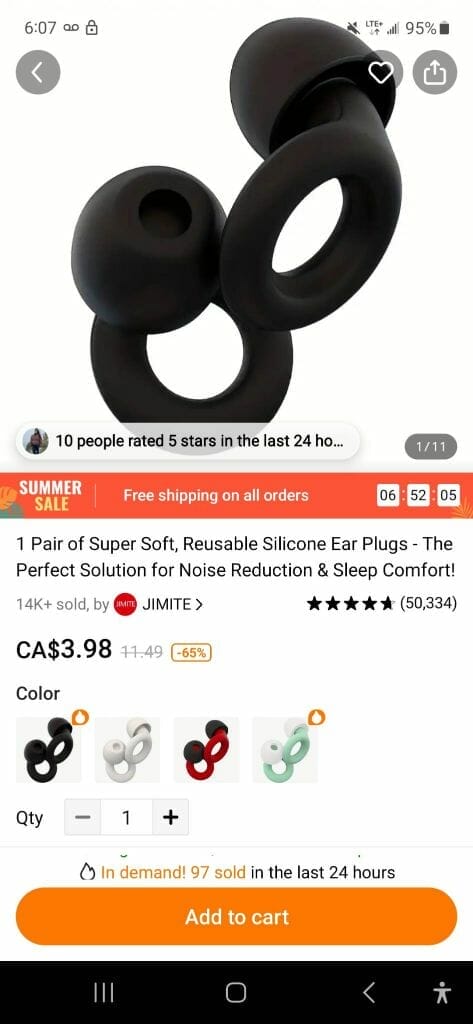 Temu has their own "off-brand" version of Loop, which if you like the style, they aren't really different at all, and should do the same job. Personally, I don't love Loop, but I'm glad to see a cheaper alternative to what I feel are vastly overpriced earplugs.
I also LOVE their silicone earplugs. I've found 0 difference in them and the drug store ones, except the fact they are HALF the price. For something I buy a lot, this has been an amazing find. At this point pretty much everything I've bought has worked wonderfully. The few products I did buy that I didn't like, I got refunds on.
If a product isn't up to your standards, Temu offers free returns… and sometimes lets you keep the item and be refunded!
This is the part I felt was most surprising. Temu has a generous return policy- the first return from all orders is free. If you want to send back more than one item from an order, just send them together. However, I've found that most of the time, Temu just tells you to keep the item and donate it or toss it (if it's broken).
Sign up for TEMU here and get a coupon bundle and discount
This article is not a paid review, however, clicking links to sites may generate a small fee for Misophonia International, which is then used to cover web hosting costs and other business expenses.